FREE UPS GROUND SHIPPING
on everything you order from Toy Truck Online!

Welcome to Toy Truck Online
2016 Hess Toy Truck and Dragster
Even though all Hess Stations have closed, the Hess Toy Truck Collection continues. This year the 2016 Hess flat bed hauls a drag car with LED lights and lots of sounds. A must have for your collection.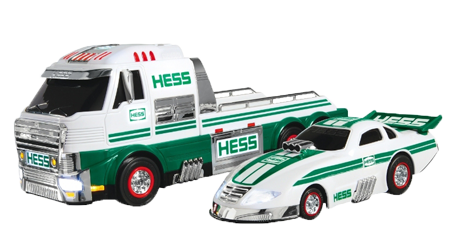 2015 Hess Fire Truck and Ladder Rescue
The 2015 Hess Fire Truck carries a miniature Ladder Rescue on a flat bed. The Red duos have authentic sounds, bright LED lights and moveable equipment. Batteries for the vehicles come inserted in the trucks ready for action.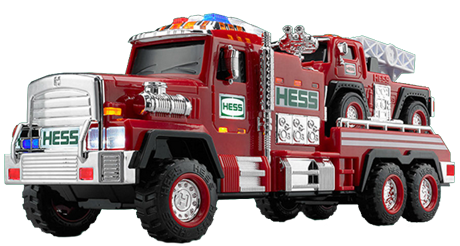 2013 Hess Toy Truck and Tractor
A sweet chromed-out truck and flat-bed trailer designed to haul a versatile, self-propelled bulldozer. The Truck has 45 lights that work in flash or steady mode along with 4 realistic sounds.The self-propelled dozer has both front and rear buckets, 15 lights and a fully motorized track to help it go to work.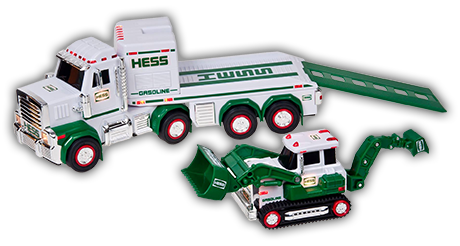 MINI 2013 Hess Truck and Racers
They've brought back the box truck, but in "mini-size."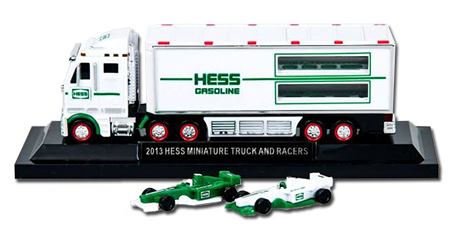 2012 Hess Helicopter and Rescue
This year's Hess Truck is going to be flying high. A helicopter and rescue truck with motorized main and tail rotors; 3 different sounds; working lights including flashing running lights and a set of high powered pivoting searchlights; and retractable landing gear.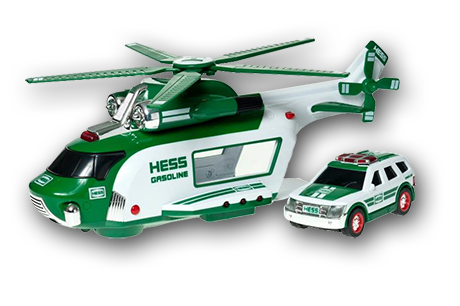 You have probably noticed a new and improved Toy Truck Online. The shopping cart is newer, faster, easier and more secure, but the folks behind the store are exactly the same. We've been sharing our love of promotional toy trucks since 1997.
You can be sure that your order will receive our utmost attention and your satisfaction is our priority.
The newest additions will always be here on the main page, so they're easy to find. Click here to view Hess Trucks or click here for Winross. If you're looking for something specific, try the search box in the upper right-hand corner. If you have any questions, please email us at: johnson@toytruck.net or call (410) 742-6446 from 9am to 9pm ET any day of the week.
Thanks for visiting us. Please sign up for our newsletter and let us know what you'd like to see improved on Toy Truck Online.
Sincerely,
Lee and Carolyn Johnson